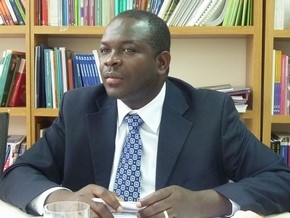 My first experience as a development professional was in Odienné, as part of a project of the European Union to identify the economic potential of different regions of Côte d'Ivoire (ECOLOC Project). One of my tasks was to visit a number of households to administer a household questionnaire that the team had prepared. I remember as if it was yesterday from the discussion I had with a senior householder, once the questionnaire was completed.
"My son, we are really counting on you. I have many dependent children, and the economic activity I do is not paid enough to support the family. I pray to God every day so that my children will not get sick because I will not have the means to heal them. I can not buy all the school supplies, and the children's grades are sickening. We are really counting on this project of the European Union to help us get out of it. "
I almost had tears in my eyes. Not for pity's sake. But because I felt so helpless. I knew that this household survey that I was driving was not going to solve the problems that this head of household faced daily. We were going to produce a very good report and give it back to the European Union, and cross our fingers for a miracle to happen. The miracle has unfortunately not yet occurred for the case of Odienné, which is only one example among many others across the 31 regions of the Ivory Coast.
Even today, as a staff of a leading International Organization in the field of development, I often have the same feeling of helplessness. What can be done to avoid being helpless in the face of this reality?
I found the answer to this question by talking to friends in the Diaspora: launching an NGO that mobilizes an active coalition at the community level, starting with the local communities with whom we have a special connection: our primary school, our church, our mosque, the mutual of the executives of our village, the cooperative of the women of our village, the social center of our district ...
"Agir ensemble" is an initiative open to any Ivorian who shares the same feeling as us. With this active coalition, we want to start where we can make the difference, no matter how small: give back to the local community that saw us born and grow a little bit of our time, no matter how busy, and a little bit of our means, as modest as they are, and thus begin to be the development actor that they have patiently and always been waiting for.
President of "Agir ensemble"
Founding Members of "Agir ensemble":
Souleymane Coulibaly, Economist, based in the philippines
Arsène Brou Kouassi, Doctor, based in the USA
Emmanuel Djirosse, Communicator, based in Ghana
Caroline Bamba, Agricultural Engineer, based in Côte d'Ivoire
Azim Karimou, Financial, based in Chad
Prosper Akanza Koffi, Financial, based in Côte d'Ivoire
Guillaume Oualé, Lawyer, based in the USA
Paul Angoua oi Angoua, Economist and Financial Statistician Engineer, based in Côte d'Ivoire
July Ped Bly, Engineer Statistician Economist and Computer scientist, based in Côte d'Ivoire
Alain Guillaume Assoko, Computer Engineer, based in Côte d'Ivoire
Marie-Solange Lobognon, Trainer in language and culture, based in the USA
Laurent Ligué,Agronomist and Financial Engineer, based in Côte d'Ivoire
Promoters of "Agir ensemble":
Abdel Karim Traoré, Energetic / Environmentalist, based in Senegal
Desiré Frank Boidou, Paymaster General Treasurer, based in Gabon
Florent Lorougnon, Tax Inspector, based in Côte d'Ivoire
Paul Koffi Goli, Expert Fiscal, based in Congo
Raymond Boumbouya Kouadio,Economist, based in Egypt
Urbain Oulai, Pharmacist, based in Côte d'Ivoire
Antoine Sarga Coulibaly,Structurer asset financing, based in France
Guy Noel Gnayoro,Management Controller, based in Zimbabwe
Koffi Lapka, Computer Engineer / MBA, based in the USA
Lamine Bamba, Agronomist Engineer, based in Cote d'Ivoire
Marcellin Cissé, Economist, based in Côte d'Ivoire
Marius Kouamé Aevouele,Financial, based in The Gambia
Richmond Dowo, Économist, based in Côte d'Ivoire
Jacques Amani Yao,Social Protection Specialist, based in Italy
Martial Djébré,Violinist-Conductor, based in France
Guy Kohemun, Retail banker, based in Switzerland
Georges Brou, Energy specialist, based in Switzerland
Raphael Kobi, Financier, basé aux USA
Méhita Fanny Sylla, Financial, based in Cameroon
Sabine N'Cho, Agronomist, based in Côte d'Ivoire
Franck N'Takpé Sokouri, Energy Engineer, based in Côte d'Ivoire
Jacques Esso Loesse, Associate Professor of Economics, based in Côte d'Ivoire
Brice Oble, Investment banker, based in Switzerland
Jean-Jacques Konan, Financial, based in Tanzania
Lambert Touré, Energy Engineer, based in Côte d'Ivoire
Jean-Bruce Koua, Project auditor, based in Tanzania
Franck Omer Guéi, Logistician, based in Switzerland